Staff at the Spanish Embassy and Consulates in London, Manchester and Edinburgh are to be taking indefinite strike action starting on Monday 11 March which is to affect the issuing of visas, passports and services offered.
The action is being taken for an improvement of pay and work conditions, as it is understood that the salary conditions of the staff have not been changed for the last 13 years. It is thought that the Consulates in London will be most affected.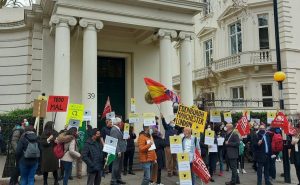 It has been communicated that there will be a provision of services to offer the highest possible level of attention to the public, and justified emergency situations will be dealt with as a priority.
Spanish console services are working to restore normal operation of services as soon as possible.
Do you need assistance to obtain residency in Spain?
Our services can guide you in your application and obtain your residency in Spain.
Permanent residency is obtained after 5 years of Spanish Residency through Self-Empoyed Residency or Non-Lucrative Residency or Residency through Investment. This followed by 5 years as a permanent resident and means you can then obtain Spanish Citizenship with a Spanish Passport.